Florida Non-Resident CCW
— Somerset County NJ
The Florida Concealed Carry Permit will allow you to carry a concealed handgun in approximately 30 states. As a New Jersey permanent resident, you can apply for a Florida CCW. It is IMPERATIVE, that you check the state you will be visiting to view current laws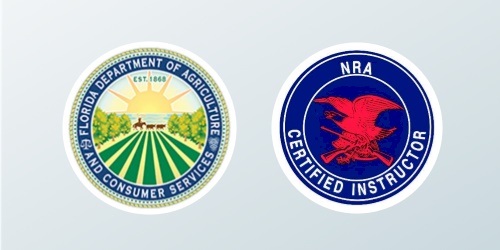 FL CCW Application Requirements
1. You must show formal training/ instruction for a firearm. Accepted instruction include Honorable Discharge from military, Law Enforcement instruction or the NRA Basic Pistol Course: Phase 1 & Phase 2.


2. As certified instructors, Defensive Security can provide you with Phase 2 of the NRA Basic Pistol course. Phase 1 is online through the NRA web site.


3. The Cost for Phase 1 (through the NRA) is $60. Phase 2 (through Defensive Security) has a cost of $175.


4. You will also need a New Jersey Firearms ID Card and a valid New Jersey drivers' License.


FL non-resident CCW Training Required
1. To begin the application process, using the NRA Basic Pistol Course as a means to show formal instruction, you need to go to the NRA web site and begin Phase 1.

2. Once completed, you then either contact us or register for a Phase 2 course through the NRA web site.


Defensive Security lists Phase 2 courses on Saturdays and Sundays. We offer this course during the week, but you must call to set the day you want to take it.

3. For further information, please call or email:
Mel Katz at 609-443-1686
Defensive Security is located conveniently in East Windsor/Hightstown NJ, in Mercer County. Instruction, sales and purchases are conducted in our private offices, by appointment. We're fully licensed by the BATFE and NJ State to conduct firearm sales and transfers for both new and used firearms. SAFE HANDLING OF A FIREARM IS CRITICAL. WE TAKE THIS VERY SERIOUSLY!