Acquiring a Handgun
— Trenton NJ

Firearm permits are handled by your local police. Call PD and speak with Firearms Officer to apply for a NJ FIREARM ID CARD and PISTOL PERMIT. Each handgun in NJ requires a Pistol Permit. Only the ID card is required for rifle/shotgun purchase. Once you have your ID/Permit, we can guide you on purchasing a firearm that is best suited for your needs.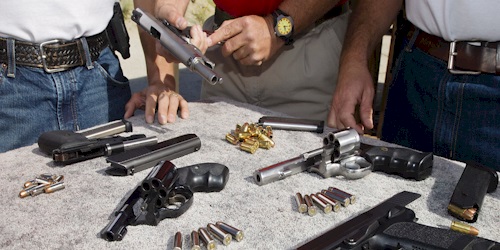 Firearm Purchase
When you are ready to make a purchase, you will be able to handle many makes and styles of handguns in the privacy of our office, and have all your questions addressed in a professional manner. Our unique consultations enable you to select the firearm best suited for your needs — without the hassle of other customers hanging over your shoulder.
Firearm Training
After selection and purchase, Defensive Security can train you in its proper use and maintenance.

This is done at a safe and secure shooting range. Annual refresher courses are available, and highly recommended. Remember, the greater your proficiency, the greater your security.
Defensive Security is located in East Windsor/Hightstown NJ, in Mercer County. Instruction, gun sales and purchases are conducted in our private offices, by appointment. We're fully licensed by the BATFE and NJ State to conduct firearm sales and transfers for both new and used firearms. SAFE HANDLING OF A FIREARM IS CRITICAL. WE TAKE THIS VERY SERIOUSLY!